Key benefits
A fully connected solution, AdvancePro syncs with QuickBooks Online, as well as major e-Commerce, shipping and EDI platforms. Manage your whole business and stop duplicate data-entry with a system that connects every facet of your operations.
Understand your business with advanced reporting and real-time business intelligence. Increase productivity and improve your customer experience with complete process integration from quote to cash.
AdvancePro is a highly functional, robust inventory solution. In the implementation process, our team of inventory experts will analyze your business operations and configure AdvancePro to support your unique workflow.
How it works with QuickBooks
When setting up AdvancePro integrated inventory management software programs, all of your products, customers and vendors will be synced from QuickBooks. From that point onwards, AdvancePro will be used to manage all aspects of your business, including purchasing, sales and warehouse management. AdvancePro is a total operations management solution that is designed to optimize your business and sync all the financial implications with your accounting software. Working together with QuickBooks as your accounting module, you can intelligently track and manage all of your business operations.
Details
AdvancePro helps you SAVE MONEY and MAKE MONEY
AdvancePro is a comprehensive inventory management software that will streamline and organize your business. If you manufacture, warehouse or distribute, AdvancePro has the tools you need to control your operations.
AdvancePro integrates with:
QuickBooks Online and Desktop (All Versions)
E-Commerce Platforms: Shopify, WooCommerce and more
Payment Processors: Direct Connect, Authorize.net and more
Shipping: UPS and FedEx
EDI
Additional API integrations available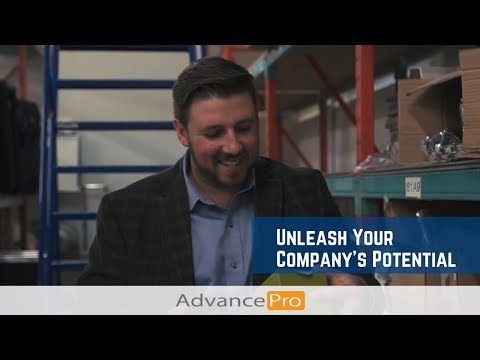 Get Started For Free!
No Credit Card Required
AP Kickstart
includes all of the basic features of AdvancePro so you can experience the power of the platform with no risk!
PLAN
PRICE
USERS
DETAILS
AP Essentials
$85 USD Per User Per Month
Unlimited
For companies looking to start their journey to inventory success

Includes:

All Standard Inventory Capabilities
Unlimited Customers and Vendors
Maximum 1000 Products
Order Matrix
Freight and Landed Cost
Payment Proc

AP Professional

Most Popular Plan

$130 USD Per User Per Month
Unlimited
For mid-sized companies seeking an all-in-one operations management system

Includes all features in AP Essentials and:

Unlimited Products
Manufacturing
Lot and Serial Tracking
e-Commerce Integrations
EDI

AP Enterprise
Get a Quote
Unlimited
For enterprise-level companies with complex or unique operations. Manage multiple channels, access advanced dashboards and track products with lot and serial numbers. The complete package!
AdvancePro's dedicated technical support team has many years of experience ensuring that our clients have continued success on our platform. With rapid response and resolution time, we consistently receive top marks from our customers.
AdvancePro System Requirements:
64-Bit ONLY
Windows Vista SP2
Windows 7 SP1
Windows 8
Windows 8.1
Windows 10
Windows Server 2008 SP2
Windows Server 2008 R2 SP1
Windows Server 2012
Windows Server 2012 R2
Contacts
support@advanceprotech.com (1-800) 970-9071

Online support:

http://advanceprotech.com/support/
FAQ
What can AdvancePro do that QuickBooks Online can't?

QuickBooks Online is a great tool for businesses with simple accounting needs, but has limited capabilities in inventory and warehouse management. AdvancePro is a comprehensive inventory and order management system that connects all of your disconnected processes and technologies to provide a central operations platform. AdvancePro has many features not included in QuickBooks, including lot and serial tracking, product variant management, kitting and manufacturing/assembly.

How long does it take to implement AdvancePro?

AdvancePro is more than just a software; it's an inventory management solution. That includes a full implementation service that follows a process that has been refined through years of experience. Our typical implementation takes 4 to 6 weeks, and includes data migration, system configuration and customization, training and testing. Our team is experienced in change management practices, and we work to engage your key stakeholders from day one to maximize buy-in and ease of adoption.

Which business operations are handled in AdvancePro?

Where QuickBooks handles all front-of-house operations, AdvancePro tracks and maintains all back-of-house processes, like warehouse, order and product management, advanced reporting and many more. For a complete list of features, visit http://advanceprotech.com/comprehensive-advancepro-feature-list/.

How do I get started with AdvancePro?

Take the first step towards inventory optimization by scheduling a live demo with one-on-one of our Product Experts. You can schedule your demo using this link: https://calendly.com/apt-demo/intro.
---