Key benefits
B2BGateway's solution allows for hassle-free, reliable and the seamless exchange of any business documents via any communication method (FTP, AS2, HTTP, API, etc.) and any file type (X12, XML, EDIFACT, CSV, etc.).
A key success factor of B2BGateway has been assigning a dedicated Project Manager for every new implementation and a Trading Partner Liaison who will work on a client's behalf in order to ensure that we meet all trading partner requirements.
Our Production Support Team is available for emergency support and routine production issues such as trading partner and mapping changes. Support is available across several time zones with emergency personnel available after hours and on weekends.
How it works with QuickBooks
We provide a fully-integrated EDI solution for QuickBooks Online users through our EDI Thru Tool with a web-based user interface.
Details
B2BGateway's EDI & API Connectivity solutions for QuickBooks are simple, competitively priced, highly effective & increase profitability by reducing the costs due to manual data entry errors. Unlike other providers, B2BGateway is not a standardized EDI & API Connectivity solution. Each of our client's unique business needs are taken into consideration when setting up their integration enabling flexibility that ensures trading partner requirements are satisfied. Read more about B2BGateway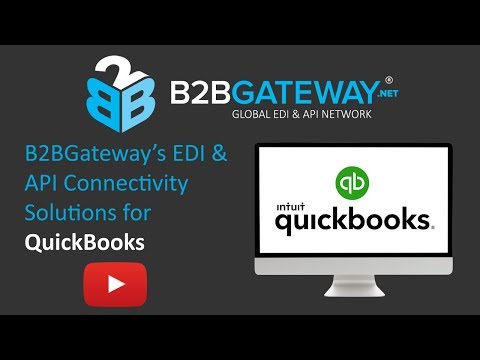 Contact our sales staff to help get you the plan that fits your needs. Request Pricing
| PLAN | PRICE | USERS | DETAILS |
| --- | --- | --- | --- |
| Standard Pricing | Contact our sales team to create a pricing plan right for you | Unlimited | This pricing is based on monthly transactions to your Trading Partners. |
We have 24/7 emergency support available through phone, e-mail, and our Client Portal.
Contacts
ProductionSupportTeam@B2BGateway.net (401) 491-9595 x4

Online support:

https://www.b2bgateway.net/edi-support-team/
FAQ
What transactions are supported by your app?

We support all transactions that are available in QuickBooks Online.

How much is your service?

We have several pricing plans so please visit our website to Learn More, call (401) 491-9595 x5 or Contact Us for more information.

How much time does it take to get setup.

Once the contract is signed and all paperwork is completed, we will schedule a Kickoff Meeting and assign you a project manager at B2BGateway. The normal setup time is about 4-6 weeks from when we receive the first valid test file from your trading partner. This time frame varies based on the complexity of setup and availability. Please call (401) 491-9595 x5 to discuss your specific scenario.

Do I have to re-type the data into a web page?

Absolutely not! B2BGateway's EDI solutions for QuickBooks Online is a fully-integrated and fully-managed solution. Your orders are simply and automatically import into QuickBooks. Invoices are automatically extracted from QuickBooks. We take care of getting all your transactions to and from your trading partner.
---