Key benefits
No Developers Needed. Example of a pre-built integration: Dynamics 365/CRM Accounts, Products & Invoices automated with QuickBooks Online Customers, Items, Jobs & Invoices. Click Get App Now to get integrated today!
Eliminate errors, reduce duplicate data entry, increase productivity, and drive more insights for better forecasting. This provides full visibility into how your business is running and where it can be improved.
Start with pre-built workflow and grow with customization. With DBSync you're able to create on-demand, scalable integration workflows with virtually any data point, ERP, accounting, database or your favorite eCommerce applications.
How it works with QuickBooks
Integrate Invoice to Invoice
Integrate with inventory
Integrate Microsoft Dynamics 365/CRM Accounts, Products, and Invoices with Quickbooks Online Customers, Items, Jobs and Invoices
Track Order to Cash and A/R analytics
Integrate beyond standard objects to do things like Timesheet and Expense Integration, A/R, A/P and more
We'll be happy to show you around, Book a Demo at any suitable time.
Details
Integrate your Microsoft Dynamics 365/CRM with QuickBooks Online Advanced to:
Run A/R analytics from within Dynamics 365/CRM
Avoid Rep to CFO unnecessary follow ups
Track and collect outstanding balances
Calculate Sales Commissions from within Dynamics 365/CRM and when the cash is received
Save time & money on useless data reconciliation
Make accurate forecasting
Also Integrate Dynamics 365 tools for Sales, Customer Service, Field Service, Project Service Automation, Business Central, Finance & Operations, GP and NAV.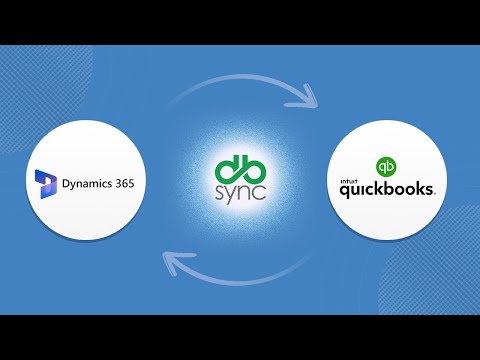 DBSync's templates are available via an annual license. This allows us to stay up to date with the latest versions of the software we are connecting.
| PLAN | PRICE | USERS | DETAILS |
| --- | --- | --- | --- |
| Starter | $2400/yr | Unlimited | Bidirectional pre-built template to integrate Microsoft Dynamics 365/CRM Accounts, Product, and Invoices. It comes with 14-day free trial that gets triggered when clicking 'Get App Now'. |
| Enterprise | Starting at $2400/yr | Unlimited | This version helps you to integrate multiple softwares, systems & applications you already use (3 and above). If this is what you're looking for, please Book a Demo. |
Standard: Email Support. Enterprise: Email and Phone. Check website for more details.
Contacts
support@mydbsync.com 1-877-739-2818

Online support:

http://help.mydbsync.com/docs/display/dbsync/Home
FAQ
Is Microsoft Dynamics 365/CRM integration bidirectional?

Yes, with DBSync you can customize all your workflows, whether run them unidirectionally or bidirectionally, as per your requirements.

Can I generate invoices in QuickBooks from inside Microsoft 365/CRM?

Yes, you can generate invoices, sales orders, estimates and quotes. You can integrate Microsoft 365/CRM Custom Objects or QuickBooks Accounting tables.

Does DBSync support custom objects?

DBSync is a completely customizable solution and gives you a full support of Custom Objects and Fields and control over customization.

How long does it take to get up and running? Is there a Free trial?

Absolutely! You can kick off your 14-Day Free Trial by clicking Get App Now. No per-user cost. No payment details upfront. Cancel anytime. It will take you less than an hour to get it up and running with pre-built templates. If you see you need more advanced capability, you can always upgrade to Enterprise version.
---