Description
The eClientLink Editor is a Financial Statement and Chart editor that allows the creation of customized, Financial Statements and Charts from the data in QuickBooks Online. More reporting options than what is offered in QuickBooks Online.
Non-Profit Reporting
Combining the features of QuickBooks Online and eClientLink Report Editor, allows Non-Profits to produce reports which are not available in QuickBooks Online. Statement of Activity reports (Profit and Loss) can be prepared that report unrestricted funds and restricted funds on the same page wide report. It can also track the amount of restricted cash in total and by restricted fund. The same report can be produced by Programs.

Extensive customization. More that QuickBooks Online statements.

For the user that needs more statement and chart options, eClientLink is the answer. Statements can be prepared that comply with Generally Accepted Accounting Principals. Department and cost centers can be presented in an unlimited number of ways. Executive summary roll up reports can be prepared. After the line description and account assignments has been completed, the lines can be further formatted for bold, underline double underline, currency sign, reverse sign, etc.
Simple one click period updates.
After the setup, the statements and charts can be updated for a new period, or changes in the QuickBooks Online data,by a one click update process. This process gets the updated information from your QuickBooks Online company file and adds it to the appropriate statements.
New Statement Wizard make the original setup of statements a much easier task.
This Statement Wizard offers several choices to simplify and automate the original setup of your Statements. If additional functionality is needed or if the Statements need to be modified, this can be done using the advanced 'Statement Maintenance' functions.
FREE setup of your first Financial Statement.
We offer a FREE setup your first financial statement page, or chart free of charge and with no obligation. Just send us an e-mail, with your requirements, to support@eClientLink.com and we will get started. We just want to show you what can be done. You can also use it as a training tools to learn how to create your own Statements.
>
Developed for a CPA firm.
The original version of the program was developed for a CPA firm to provide its clients with financial information that they could use. Myron Joy, the principal developer, has had more than 20 year's experience as a practicing CPA and a Certified QuickBooks Pro Adviser.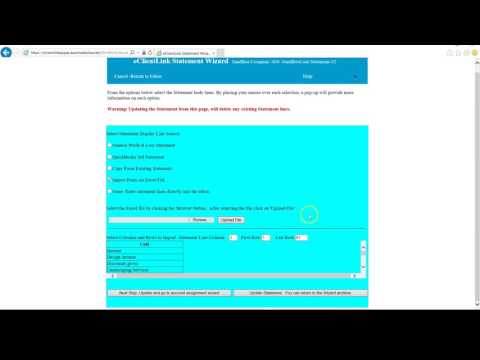 Free 90-day trial, no CC needed. Subscriptions start at $15.00 per Firm and are billed annually.

Start your Free Trial Today.


| PLAN | PRICE | USERS | DETAILS |
| --- | --- | --- | --- |
| Unlimited Users | $15.00 Per Month | 99 | Billed annually. |
| Statement Setup | Free | 99 | Setup your first financial statement page, reports or chart, free of charge and with no obligation. Just send us an e-mail, with your requirements, to support@eClientLink.com and we will get started. |
| Custom Coding & Financial Statement Setup | Various depending on requirments | 99 | With our optional Custom Coding service we can expand the reporting possibilities of our eClientLink editor. Information can be drawn from any source and presented in any way. If you can imagine it, we can produce it. |
The primary support is via e-mail to Support@eClientLink.com. Phone support is also available. See the contact information in the help section.
Contacts
520-221-7718

Online support:

https://eclientlinkappaz.azurewebsites.net/Contact.aspx
FAQ
Can I assess my clients QuickBooks Online company?

Unlimited number of client QuickBooks Online company files can be assessed by any user. The client will need to give you access by listing you as an authorized user of their company file.

How will I be billed?

Approximately 30 days prior to the expiration of the trial period you will be contacted with a reminder. The reminder will include a link to a payment web page. Billing is based on the number of users that are using the eClientLink application. A user is defined as a unique Intuit sign-on user. Each unique Intuit sign-on user can assess an unlimited number of QuickBooks companies. Each unique QuickBooks Online company sign-on is not considered a user for billing purposes.

Can I include Budget data in the statements?

Yes, budget data from QuickBooks can be included in the statements.
---