Key benefits
Make payroll a breeze: 72% of our customers spend 5 minutes or less to run payroll. And with automatic federal, state and local tax filings and W-2s, you can leave the paperwork to us.
Expert support when you need it: Our friendly, experienced reps are available by phone, email or chat. And whenever you call or chat with us, you'll be speaking directly with one our San Francisco- or Denver-based team members.
Online employee accounts: Employees fill out their own bank details and W-4s. They also get lifetime accounts to access their pay history and W-2s and can update their own information—which means you deal with fewer questions and less paperwork.
How it works with QuickBooks
Each time you run payroll, cancel payroll, or make a correction, your total wages, taxes, and reimbursements will automatically appear in the expenses section of your QuickBooks Online account. If you are a first time Gusto user, we'll pull in your company and employee data from QuickBooks Online to streamline your setup process.
Details
With the best payroll for small business – plus workers' comp, benefits, 401(k), and HR tools – Gusto makes it easy for you to pay your employees and take care of your team. Join the 40,000+ businesses in all 50 states that choose Gusto. And when you integrate Gusto with QuickBooks, every time you run payroll, wages and taxes are synced. 9 out of 10 customers say Gusto is easier to use than other payroll solutions. We guide you through setup, whether you are new to payroll or switching providers, and explain things in English – not IRS. That's why 4 out of 5 customers report fewer payroll errors after switching to Gusto.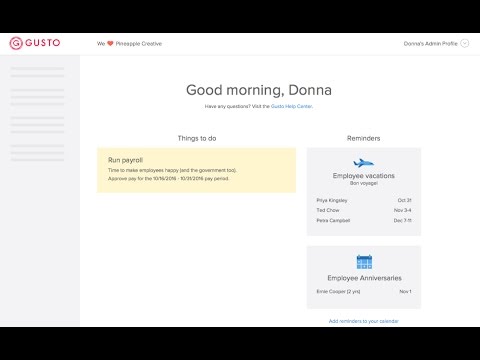 Starting at $45 per month, with the first month free after you run your first payroll
| PLAN | PRICE | USERS | DETAILS |
| --- | --- | --- | --- |
| Core | $39/mo base + $6/mo per person | 1 | Full-service payroll so you can get back to what matters most. Includes: full-service payroll, employee accounts, benefits and workers' comp administration. For more details visit gusto.com/pricing |
| Complete | $39/mo base + $12/mo per person | 1 | Full-service payroll plus better HR tools so you can create a great place to work. Includes: offers and onboarding, time-off management, employee directory, full-service payroll, benefits and workers' comp administration. gusto.com/pricing |
| Concierge | $149/mo base + $12/mo per person | 1 | Full-service payroll and HR tools plus certified HR pros and resources so you don't have to go it alone. Includes: certified HR pros, HR resource center, dedicated support, HR tools, payroll, benefits & workers' comp administration. gusto.com/pricing |
Gusto is known for outstanding support. Our experts can help answer all your payroll questions and get you set up, whether you are a new business or switching payroll providers. Send us an email at success@gusto.com or give us a call. We are here to help.
Join the thousands of businesses that love Gusto in all 50 States.
See what our customers have to say.
Contacts
support@gusto.com (800) 936-0383

Online support:

http://support.gusto.com/
FAQ
Which states does Gusto support?

Gusto offers payroll services in all 50 states and the District of Columbia.

What specific payroll services do you provide?

Gusto offers full-service, online payroll which includes automatic federal, state and local payroll tax calculation, payment and filing; state new hire reporting; direct deposit; contractor payments; reimbursements and benefits; employee accounts plus online onboarding; integrations with accounting software, time & attendance, and more; payroll reports; and unlimited live support by email, phone or chat. For the full list of payroll features, check out gusto.com/payroll-features

How does Gusto handle benefits like medical insurance or 401(k)?

You can easily add company-wide or employee-specific benefits deductions in Gusto, and we'll take care of the necessary tax calculations. You can also add and manage benefits through Gusto–such as health insurance, 401(k), commuter benefits, and more–and we'll automatically keep deductions up-to-date and in sync with payroll.

Where can I see a longer FAQ?

To learn more, visit gusto.com/faq
---