Key benefits
Never misplace an important receipt ever again.
Maximize your tax deductions by keeping a rock-solid paper trail.
Protect yourself and your business in the case of an audit.
How it works with QuickBooks
The industry leader in receipt scanning, Shoeboxed helps over 1 million small business owners save time and money. Simply fill a prepaid envelope with receipts and they'll be scanned and categorized in your QuickBooks account within days. Begin FREE.
Details
Shoeboxed is the leader in receipt management. With Shoeboxed, users can snap photos of receipts using their smartphones, forward email receipts or mail their physical receipts to Shoeboxed. Shoeboxed does all of the heavy lifting and organizes the receipts into a searchable online account with all of the relevant information extracted. Users can then effortlessly sync their receipts with their QBO accounts.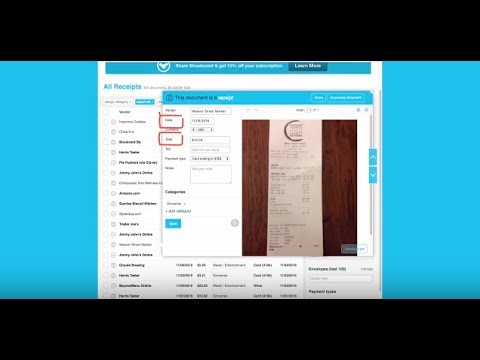 30-Day Free Trial
Trial includes unlimited prepaid envelopes and full access to Shoeboxed Premium.


| PLAN | PRICE | USERS | DETAILS |
| --- | --- | --- | --- |
| Classic | $39/month | 2 | Classic plans include 150 document submissions per month and access to all of Shoeboxed's submissions methods. |
| Business | $69/month | 3 | Business plans include 500 document submissions per month and access to all of Shoeboxed's submissions methods. |
| Executive | $125/month | 10 | Executive plans include 1000 document submissions per month and access to all of Shoeboxed's submissions methods. |
Shoeboxed support is free and available from 9am to 6pm EST Monday-Friday by phone at (888) 369-4269, by email at help@team.shoeboxed.com or online at http://support.shoeboxed.com.
Contacts
1 (888) 369-4269

Online support:

http://support.shoeboxed.com
FAQ
Is Shoeboxed Safe?

Yes! Safety is our top priority at Shoeboxed. For this reason Shoeboxed uses the same 128-bit SSL encryption currently used by most major banks. Our online security and privacy are actively monitored by leading experts like TrustE and Thawte. In addition, we log all visits to our website and maintain regular backups of all data, which we store in one of our secure offsite locations. All physical documents are kept under lock and key in a secured facility under 24-hour surveillance.

How can I get my documents to Shoeboxed?

Getting your receipts and other financial information into your Shoeboxed account is easy! Shoeboxed offers multiple submission options for maximum convenience. These submission options include: a prepaid mail-in service, multiple mobile submission options through any mobile device, a personalized Shoeboxed e-mail address and a Shoeboxed a web uploader that accepts almost all image types as well as PDF files.

Does Shoeboxed comply with tax authority regulations?

Yes, the IRS as well as other international tax organizations like ATO and CRA accept digital (scanned) receipts for taxes and audits. In the US, the IRS has been accepting digital receipts since at least 1997 under certain conditions, all of which are met by Shoeboxed. Shoeboxed is the best and easiest tool for getting your receipts scanned and organized to be safe in case of IRS audit and to simplify tax prep.

Can my accountant/bookkeeper use Shoeboxed?

Yes! Shoeboxed offers multi-user accounts that are great for accountants and bookkeepers and allow them to oversee and manage your financial information in your personalized online Shoeboxed account.
---