Key benefits
Search Your QuickBooksCustomer Info Faster and More Efficiently

->View, create and edit customers on the fly.

->Sync your data real-time with QuickBooks.

->Create CUSTOM FIELDS for Unique Customer Info.
Send and Receive Customer Text Messages Directly from SnapDsk

->Message whole groups and individual customers.

->Save threads across multiple users.

->Archive top messages for quick sends and replies.
Create, Assign, and Track Customer Tasks

->Assign tasks directly or pool tasks for anyone to accept.

->Swap tasks between users easily.

->Notify users of new and unassigned tasks.
How it works with QuickBooks
SnapDsk is a fully compiled single page application that integrates with QuickBooks Online API and Webhooks to facilitate the seamless transfer of customer data and information.

Real-time sync allows you to view and update QuickBooks customer information from anywhere at any time. SnapDsk allows users to pull and sync customer information from anywhere at any time on any device.
Details
SnapDsk™ is a simple, easy-to-use customer rolodex app that integrates seamlessly with your QuickBooks Online data and allows for lightning fast customer searching, texting, and task/job tracking from any device.


We designed SnapDsk for small business owners who need to update and read customer and operational information quickly from anywhere at any time.
SnapDsk business users include:
Housekeepers
Landscapers
Contractors/Subcontractors
Realtors
Plumbers
HVAC Repair Techs
and Many More!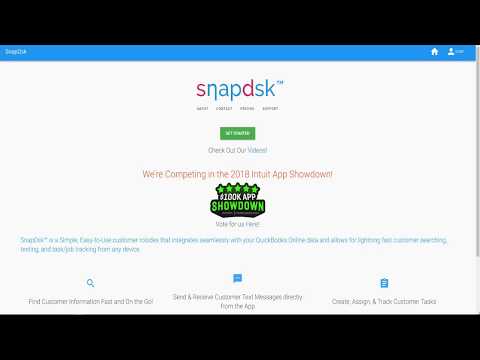 SnapDsk is intentionally affordable and accessible. Try any plan free for 14 days.
| PLAN | PRICE | USERS | DETAILS |
| --- | --- | --- | --- |
| Free | Free | 1 | Includes 0 text messages, customer rolodex, quick search & QuickBooks Online sync |
| Simple Start | $3.99 / mo. | 5 | Includes everything in Free + custom fields, multiple users, tasks & Google Maps. |
| Essentials | $9.99 / mo. | 10 | Includes 100 monthly text messages, everything in Simple Start + SMS text messaging, custom plugin features, task scheduling (COMING 2019), email messaging (COMING 2019) & CSV data import (COMING 2019). |
| Plus | $19.99 / mo. | 20 | Includes 250 monthly text messages, everything in Essentials + customer portal (COMING 2019), direct customer messaging through portal (COMING 2019), document eSignature (COMING 2019) & customer invoicing & payment (COMING 2019). |
We love to hear from our customers! Most emails are answered within 24 hours.
Contacts
info@snapdsk.com 775-319-5620

Online support:

https://snapdsk.com/contact
FAQ
What if I need more text messages than are included with my subscription?

We've setup an easy store within the App where you can buy blocks of text messages. They never expire and unused text messages will roll over to the next month. Here are the rates:



1,500 msgs $19.99

3,000 msgs $34.95

5,000 msgs $49.99

7,500 msgs $67.95

10,000 msgs $89.99


If you need more than that, give us a call! We'll be happy to create a custom plan for you : )

Can I cancel my subscription?

Yes, you can cancel or change your subscription at any time.

Do I have to have an Intuit account to use SnapDsk?

No, you can have your employees login to SnapDsk without an Intuit account. However, SnapDsk is optimized to run with QuickBooks Online and we highly recommend that all Business Owners, Managers, and Admin use the Intuit Single Sign-On to access SnapDsk and QuickBooks together.

What happened to the "e" in SnapDsk?

When the aliens came for our incredible technology they abducted the "e" and took it back to their home world.
---